Title:
Of Happiness
Author: Olivia Luck
Genre: Contemporary Romance
Release Date: May 12, 2014
"Now that I have you, I'm never letting you go."

Edith Neff relocated to Chicago to capture her own piece of happiness. Now bombarded with more change than she knows how to manage, Eddie struggles to pick of the pieces of her torn heart and decimated friendship.

Standing in the middle of a sidewalk while her (ex?) boyfriend Harris Grant pleads for forgiveness, Eddie's at a loss what to do next. So when her estranged father provides a lifeline - she has no option than to take his offer.

But Harris won't let Eddie go without a fight. He'll use whatever tactics necessary to win back his girl. While Eddie and Harris find their way back together, darkness lurks, unwilling to relent on destroying their relationship. Permanently.

Note: Of Happiness is the sequel to In Pursuit. Content intended for readers 18+.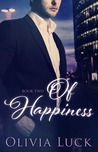 Of Happiness
by
Olivia Luck
My rating:
4 of 5 stars
Find this Review at Taryn Lee's Book Blog
A gifted copy was provided by the author for an honest review.
BEFORE YOU READ THIS REVIEW: This is book #2... Read
In Pursuit
before reading this one. Or else you're going to be coming in at a time in the storyline when it won't make any sense.
Edith Neff
is devastated. Her roommate turned out to be a conniving little witch. And her roommates brother used to be her lover, but now that's all been obliterated to dust. With no where to go, it's time for Edith to finally figure out where she belongs and who she belongs with. Does she go home or does she stay to work out her life with
Harris Grant
. The man who stood by while her ex-roommate berated her?
I liked this book a lot. My only complaint is that Edith kept saying in her inner dialogue that she isn't an open person and she doesn't like to share a lot about herself, yet she did that a lot. She asked for advice and told people her feelings, so that threw me off a bit.
"We are worthy of each other."
"I'm starting to understand that."
Overall, I'm giving this book
3.5 STARS out of 5 STARS
~~~~~~~~~~~~~~~~~~~~~~~~~~~~~~~
Read by Taryn Lee on May 15, 2014
Reviewed by Taryn Lee on May 24, 2014
Taryn Lee's Book Blog on Facebook
View all my reviews
ABOUT THE AUTHOR
Olivia Luck lives in the middle of America with her loving husband and her obsession with writing. She wrote her first romance novel at age eight. When she's not reading, editing, or writing, you can find her in the kitchen learning to cook. Olivia loves to travel and spend time with her family. Get in touch with Olivia, she adores emails:
olivialuckauthor@gmail.com
And if you're on social media, you can find her there too:
In Pursuit On Sale For $0.99!